My favourite thing about styled wedding shoots is how well they showcase the incredible local talent in the industry. Case in point - this incredible oceanside styled shoot captured at Crystal Crescent Beach in Nova Scotia. Read on to learn about the inspiration behind this styled shoot.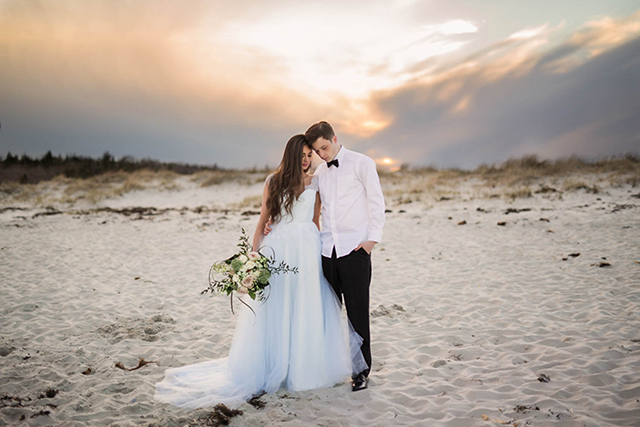 From the hand stitched gown to the custom designed handmade rings, everything in this photoshoot was thought out and executed to be special and unique. The whimsical blue gown featured is hand stitched and has Chantilly lace detailing. It was specifically chosen to show brides something different yet elegant and beautiful. The decor was carefully chosen to compliment this beautiful custom gown and show couples how they can incorporate vintage elements such as the gold dinnerware and beautiful vintage china. We also incorporated beautiful stationery and deserts made by local artists.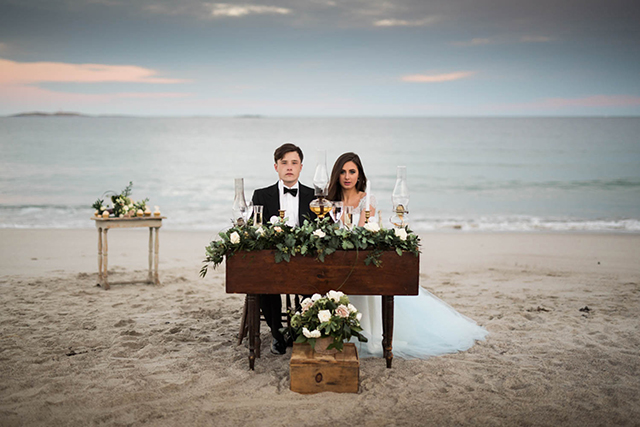 Styled in Lace is an amazing place for couples to get inspiration on ways to make their wedding unique, customized to them and beautiful. That is exactly what the goal of this shoot was. We wanted to show how couples could draw from various styles (elegant, vintage, boho, romantic, etc) and put them together to create something special and personal.
The custom designed gown was the inspiration starting point along with showing the heritage and cultural diversity of the province within elements of the decor.
All of the decor/floral including the tepee was custom designed and created for the photoshoot. The gown was custom designed, dyed and hand stitched; and the rings were also custom and handmade. We choose Crystal Crescent Beach as it is close to Halifax yet tucked away on a coastal inlet where there is beautiful white sand and crystal clear water (unlike most of the coast which has brown sand).