Jessica's custom-designed emerald green dress is breathtakingly beautiful - its colour, sparkle, shine, and cut is everything one could imagine a 1920s inspired wedding gown would look like. See more of Jessica and Calen's timeless and elegant wedding below!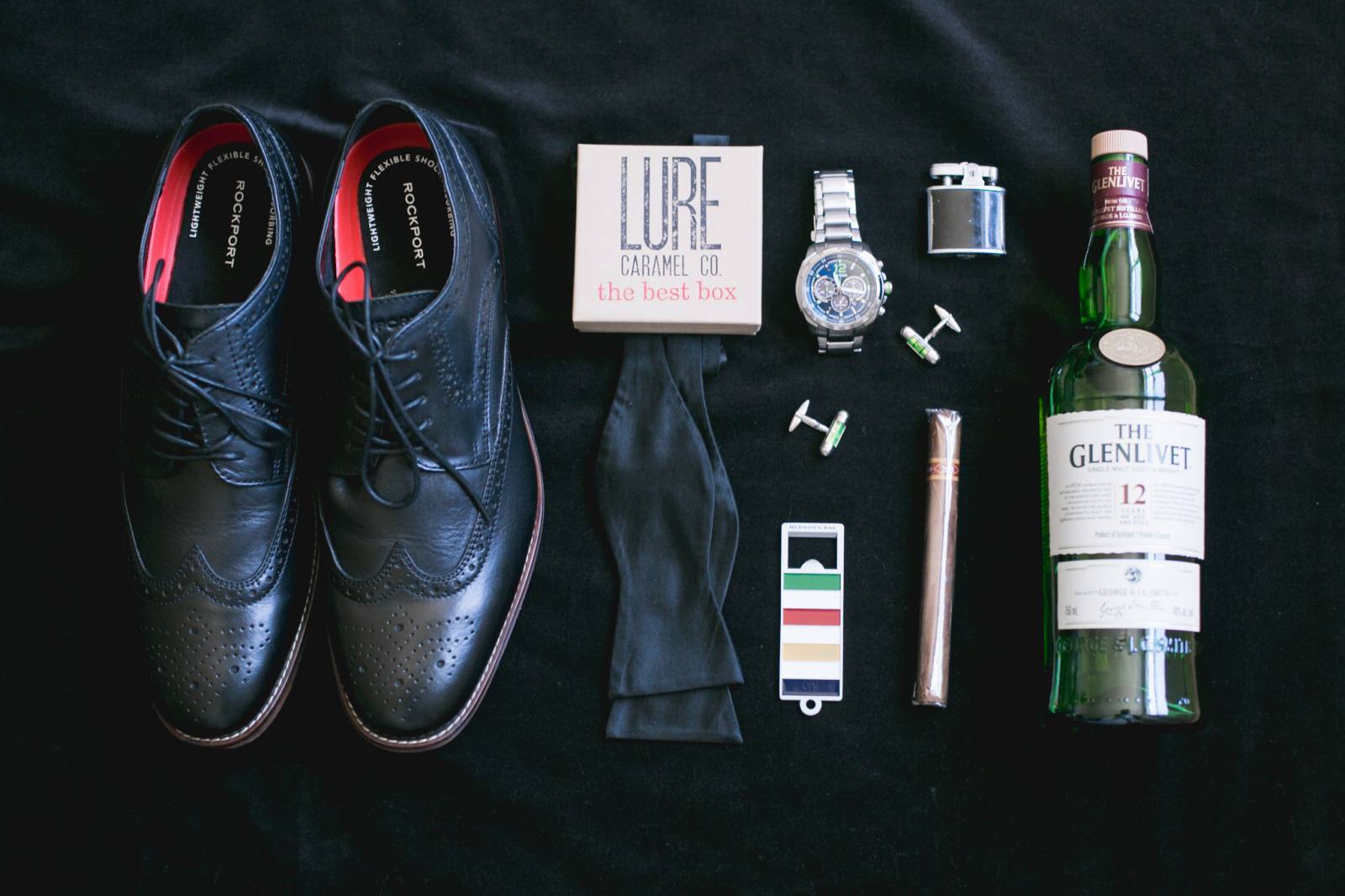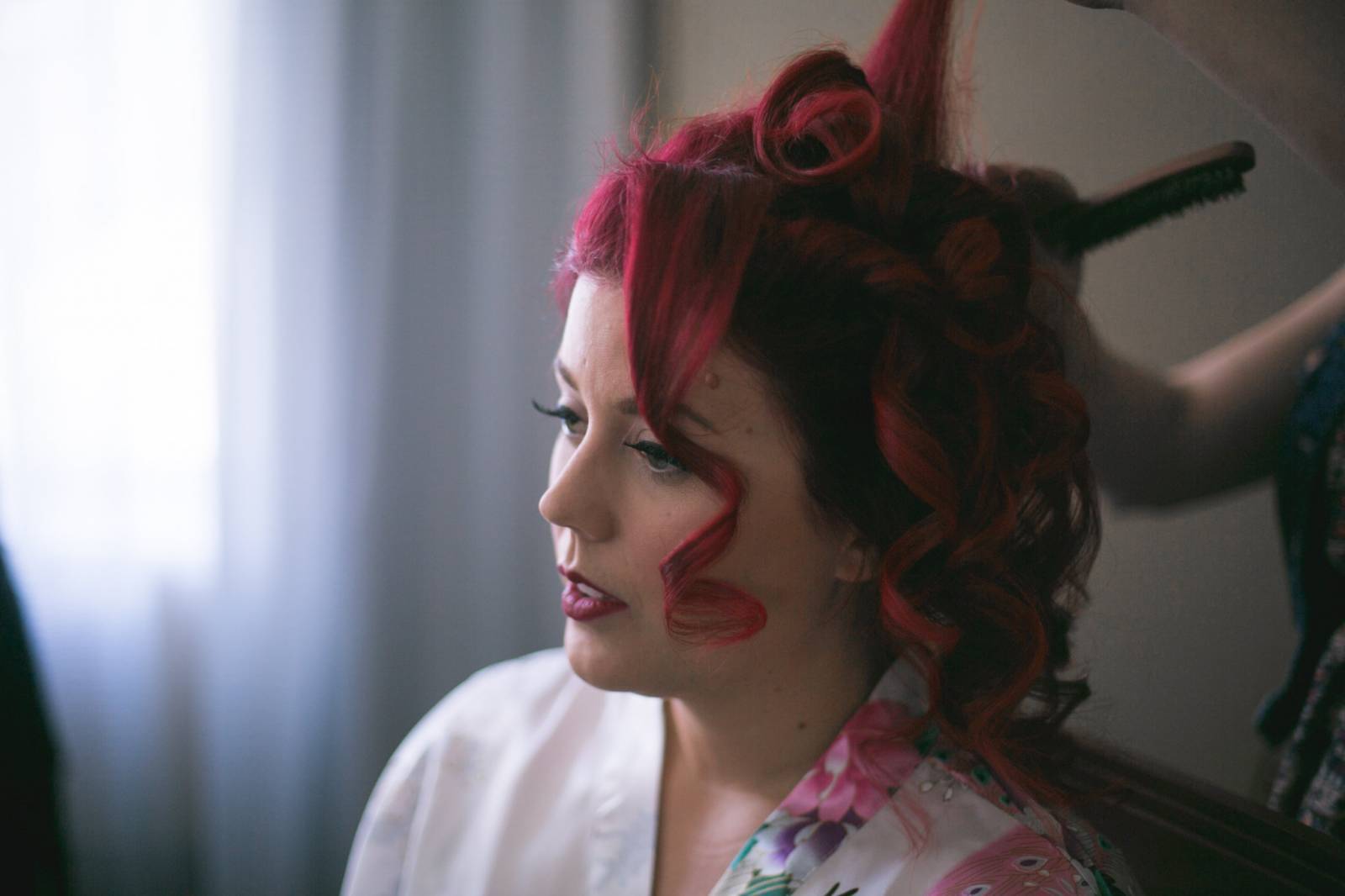 From the Bride:
The one thing that completely set the tone for my wedding was my engagement ring. My then fiancé and now husband knows me well. He chose an emerald cut emerald with diamonds for my engagement ring. It's beautiful, it's green, classic and a little too much ... and that's exactly what I wanted for our wedding. Green is my favorite colour and it just always looks so elegant and rich. So naturally it was going to be our wedding colour. God love my husband because he didn't dare question my colour choice!
With the green came the idea of 1920s glam. I didn't want a theme so much as a feeling of understated timesless glam - simple white table settings, but with white orchids as our centre pieces, black, white and gold with a pop of green, and red for the wedding party. I wanted everyone to get really dressed up and treat themselves for our wedding like they would in the 1920s.
Everything in our wedding had personal significance. We had our wedding bands custom made by Emily Seaboyer of Locusart Jewellery using sands from the three beaches we grew up on with each of our families. It gave our bands a rough sand textured finish. My custom Katrina Tuttle Bridal dress was green because I had to feel 100% like me and beautiful on my wedding day and I wanted Calen to see me in a dress I loved.
Calen's tux was a custom velvet Joseph Abboud jacket from Moores because the night we more or less started dating he wore a velvet pinstripe blazer he had gotten from his grandmother, and I just knew right there he was it. He was so handsome and I always loved that jacket (still do!). So I knew I wanted him in velvet again. We also had the inside embroidered with a saying from his grandma "tiny hugs" but reads "teeny hugs" cause she always spelt it the opposite of what she said! She sadly passed three years ago, but actually encouraged Calen to propose and left him money for a ring when she passed.
My pieces (something old, new, borrowed and blue) were obviously very personal. I had my great great aunts hand beaded purse from the 1930s as my something borrowed and old. My new was my green bracelet from my mother and father. My something blue ... I didn't do because I wore something pink as an inside joke with my side of the family and my grandma. So my sister found a beautiful pink crystal bracelet made by House of Moda Jewellery in Halifax.
The last major thing was the favours. We weren't sure what to do, then one night a couple of weeks before the wedding I had the idea to do ladybug rocks. It seems like the complete opposite to the feeling I was going for (glam and elegance) to suddenly have these hand painted lady bug rocks on our place settings ... but it was perfect. Calen's grandmother, Marie, was an avid gardener and just had the most loving and giving spirit. She would always have these little hand painted ladybugs in her garden and give them to her friends and family. Calen is so proud of his grandma, so I thought giving everyone a lady bug rock to put in their gardens would be a such a personal touching way to say thank you. So we shared our love for her with everyone to take home. I picked every rock from Lawrencetown Beach and hand painted them myself just as she would have. And since our wedding, everyone has sent me pictures of their ladybugs in their gardens!
My favorite moment from our wedding day was our first kiss as a married couple. It was perfect and everything was real. Calen and I had been together for 10 years, moved around three provinces, adopted our dog, had career overhauls, bought a house, and had a baby all before we were married. So our first kiss was the perfect way to start the next phase of our lives together.
My advice for couples planning their weddings would be to stay true to you. It's your special day. Do what you want, do what means something for you, what you love, what makes you happy and whatever that is. We did everything we wanted for our wedding day how we wanted, and we wouldn't have changed a thing.